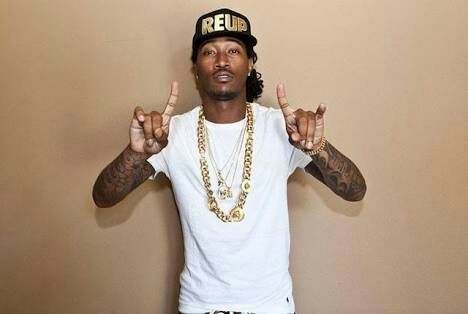 Dubbing Future the future of music would be a tad too easy.
Yet Billboard today refreshed its weekly US Top 200 chart, and the American rapper officially became the first artist to ever knock his own album out of the #1 spot with another one of his albums. Future released the self-titled FUTURE on Feb. 17. One week later, the artist then dropped a second album HNDRXX (pronounced "Hendrix") which is the new champion.
Future is the only musician in the chart's half-century history of existence to ever debut two back-to-back #1 albums. Amazing as that is, bear in mind that part of Future's record-breaking feat comes the hodgepodge way in which music's top charts are now assembled.
Up till December 2014, Billboard's Top 200 chart—which pulls its numbers from data juggernaut Nielsen—measured new music in the US only by album sales. As music streaming services like Spotify and Apple Music, came into the mainstream, Nielsen and Billboard revamped their system to be based off "units."
How does is work? One "unit" is equivalent to either one album sale, 10 track sales, or 1,500 song streams. In other words, listeners on a streaming platform would need to stream a Future song 1,500 times for it to count the same way a single album purchase does.
While that number may seem high, consider that it costs (more or less) $9.99 a month to stream tens of thousands of songs, as opposed to dropping $10-15 on a single album to own it, either physically or digitally. That means people who subscribe to online streaming services aren't taking out an additional cost to listen to every new Future song or album or the same ones over and over again—it's essentially free.
It becomes an odd, if necessary, way of calculating charts, because it means people who pay the most for an artist's music count for the least when sales are tallied.
The new system favors constantly evolving artists like Future. The Atlanta rapper—who came onto the music scene in 2010 and has produced six studio albums, 12 mixtapes, 61 singles, and 33 music videos since then—could indeed be ushering in a new era of music: a maddened, frantic new time for the industry in which being prolific pays off more than anything else. It'd seem the rapper's penchant for excess, coupled with the quality of his two albums themselves, led to this shining moment; as Pitchfork observed last month: "Nonstop motion and overindulgence are in his DNA."
Read more: future tour